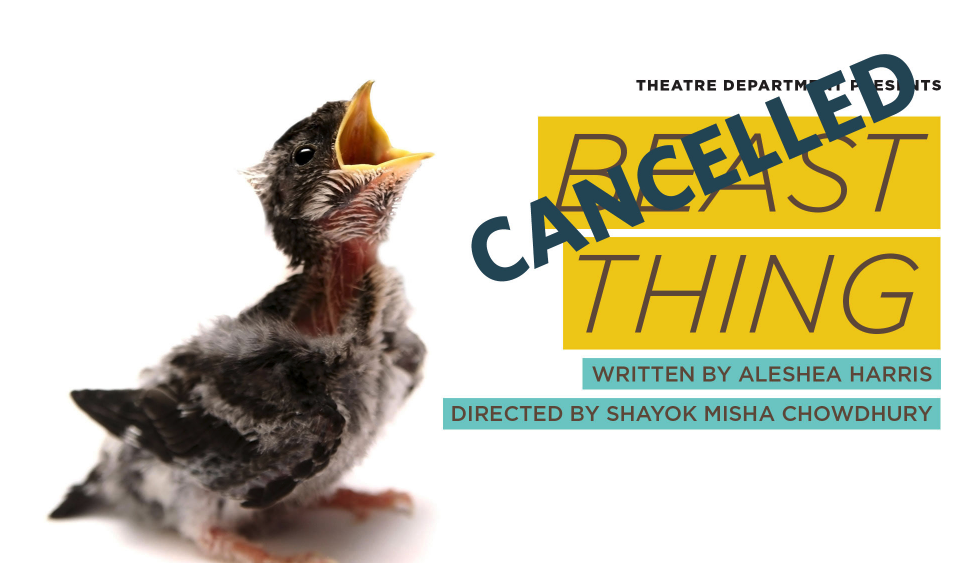 On Thursday, the theatre department announced the cancellation of its production of the play Beast Thing. The show, written by Aleshea Harris and described by the department as a "play-in-progress," contained controversial and potentially traumatizing content and was directed in a manner that consistently left many participants feeling uncomfortable, leading to its cancellation. The play was directed by Visiting Assistant Professor in Theatre Shayok Misha Chowdhury, who previously directed The Wolves in the fall of 2017.
The play centered on the burdens and consequences experienced by a town that hid away its sins; it was also intended as a platform for actors of color to express themselves outside of a white-dominated theatrical framework. "I wanted to bring Beast Thing to campus because Aleshea Harris' work pushes back against that internal and external censorship, which artists of color are constantly navigating," said Chowdhury.
The performance would have involved copious violence, including "gun violence, self-harm, nooses and hanging, animal cruelty, silhouetted nudity/sex acts and infant death," according to the event description.
Students involved in the production felt disconcerted with many aspects of the play. One of the actors in the show, Liliana Bierer '19, emphasized that everyone involved came away with different reactions. "There is no single narrative of how or why [the cancellation] happened, no monolithic experience or conflict with clear sides," she said.
Of the 12 students initially cast, six quit the show within the first few weeks due to issues with the content. "Beast Thing, from the very beginning, was a play fraught with issues," Onyeka Obi '21, one of the actors who chose to remain in the show, said. "It was a cast[ing] that aimed to seek out PoC [people of color] from the community and yet ended up a majority white [cast]. This concern … led to a fissure that resulted in an exodus of most of the remaining people of color [in] the cast."
Kester Messan-Hilla '21, an actor who left the performance, explained his complicated relationship with the show. "My involvement in Beast Thing mandated the suppression of the self," he said. This suppression, Messan-Hilla felt, made his continued involvement in Beast Thing untenable.
Bret Hairston '21, another actor who did not continue with the show, described her problems with the theatre department. "Williams College, and by extension the Williams theatre department, is not an institution that holds and supports students throughout the process of creating and displaying this emotionally and historically difficult work that we want here," she explained. "I quit very early in the process of Beast Thing because of this lack of support I felt. I remember feeling so incredibly gross in my own body because of the work," she said.
For the remaining actors, concerns intensified throughout the rehearsal process. "Students were expected to commit 20 hours a week, 6-10 p.m., Monday-Friday," Obi said. "We were involuntarily forced to prioritize this play over all else: our friends, our GPAs, our well-being… I was asked to refrain from attending my grandmother's funeral in California because I would miss tech [week] the following morning. I had numbed myself significantly to her death and to this play, and hence did not realize what a horrific harm had been committed towards me until I cried in the arms of my friends in the middle of Baxter. I will never, ever forgive myself for placing this show over my family."
Those involved also raised increasing concerns about the heavily violent nature of the performance. "The violence in this play was unnecessary," Abigail Stark-Murray '22, assistant stage manager, said. "When the purpose of the violence was questioned, no one, not even the director, had an answer. Violence without a purpose should not have to be performed by anyone and should not have to be experienced by anyone."
Obi described her concerns about particularly violent scenes. "In one of the technological window facades, a silhouetted depiction of a black actor is hanged in what is supposed to be a reference to an earlier line. But I was filled with a deep sickness that I could not shake off for days."
Bierer was also wary of performing the difficult content of the show. "I could not trust that this audience – a room of my peers, my loved ones, my acquaintances, my community members – was being considered with care for the multiplicity of potential traumas they hold," she said. "And it is we, the actors, who would have been held accountable for the harm of the show."
Throughout rehearsals, students felt like they were being continually and toxically cut out of the show's creative process. "Much of the time, I felt like we were lab rats," Stark-Murray said. "We were told that this play was an experiment, but instead of conducting the experiment alongside the director and the artistic team, I watched the actors being experimented on."
Distress about the performance culminated on Wednesday, Oct. 31, the day before the first performance was scheduled. "After a conversation with the designers and creative team that resulted in various members of the cast exhibiting intense emotional distress, the cast talked privately for almost two hours before [Chair and Associate Professor of Theatre Amy Holzapfel], arrived," Caroline Fairweather '20, an actor in the show, said. "She told us to email her and simply state whether we wanted to move forward with the process. We did, and thus the piece
was cancelled."
In an email to the Record, Holzapfel emphasized the theatre department's focus on thoroughly exploring and dissecting the factors that went into the show's cancellation. "In the past few days, I, alongside other faculty and staff members, have done little else other than work to hear everyone's perspectives on the experience of the show and our choice to cancel the performances," she said.
Holzapfel also recognized the questions and conversations that will come from the process. "How are we all – students, artists, staff, faculty, administrators – going to feel safe making art on our campus?" she asked. "I don't have a magic answer, but I am open and ready for the conversation."
Chowdhury also sent an email to involved students expressing confidence in the show's overarching message and regret for the show's cancellation. For Chowdhury, some of the pushback to the play's content represented a problematic tendency to question artists of color. "It angers and saddens me deeply that the conversation about care and trauma that is taking place at Williams, which aspires, I believe, toward a better ethics, is resulting in artists of color being silenced and pushed away from campus," he said.
"There was problematic and emotionally difficult content in The Wolves, for example, but those difficulties didn't prevent the work from going forward. No one asked that playwright to change her vision."
Chowdhury contrasted that performance with Beast Thing. "I witnessed a black playwright and a black video designer and a black actor being asked to revise their project or their image or their performance because it would cause harm to black audience members."
In the email, Chowdhury recognized the emotional toll of the production. "This experience has been harrowing for me and, I imagine, for many of you," he wrote. "I believe the production we were building was a worthy exploration of Aleshea's play, and I believe its cancellation constitutes a profound disrespect to everyone who contributed their artistry and worked tirelessly to realize the vision of this project." Chowdhury also announced that he was withdrawing his candidacy for a tenure-track position at the College, but that he will remain a faculty member for the rest of the year.
Students' views regarding the show's cancellation differed from Chowdhury's. "In my experience, and I speak for no one else, the cancellation of the show is about both process and a central debate about the place of violence onstage in a community as small as Williams," Bierer said. "But I think the reason it unraveled so quickly is that throughout the process, we as actors were continually disrespected, silenced and manipulated in the service of an artistic vision, conversations about which we were often not privy to … I think that process has to mirror product. It is not just about what you make and who makes it, but how it is made."
Obi echoed the disrespect that the cast felt after voicing their concerns. "To demonize me and my castmates for not wanting to continue to make art that has harmed us and would harm our community is absolutely vile," she added.
Fairweather also recognized gaps in the show's production, which she said initially "seemed like a match made in heaven… But the rift between professional and pedagogical, complete and in-progress, and accountability and agency, made it impossible for a successful collaboration to occur. Perhaps our immense trust in the heads of this process had something to do with our reluctance to speak out until the last minute."
However, Obi did see a silver lining in her participation in the production. "I am grateful to have been a part of a production that taught me so much artistically, that exposed me to the great and necessary work of Aleshea Harris and brought me much closer to my castmates and crew," she said.
Bierer also found positivity in the community of students involved. "While I am left feeling guilty, unsatisfied, angry, sad, empty all at once, I am at least heartened by the bold act of collective power building that the students carried out," she said. "It holds promise for large structural changes at the college, which we desperately need."
All tickets for Beast Thing will be or have already been refunded. Electronic tickets were refunded automatically, and in-person purchases can be refunded by visiting the box office.