Amanni Fernandez '18 takes talents from Eph basketball to Nike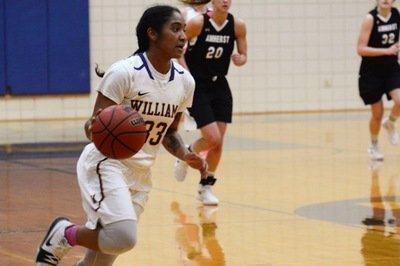 A star on the hardwood, former point guard Amanni Fernandez '18 saw the countless "swoosh" logos on her teammates and opponents' feet during her playing career. Little did she know she would one day end up working for Nike, the company that designs shoes for superstars like Lebron James and Neymar.
Fernandez grew up in the Corona neighborhood of Queens, N.Y. and attended Christ the King Regional High School in Brooklyn, where she was the starting point guard for three years. Christ the King was to some degree a basketball powerhouse in the city, but "it didn't prepare me for college academically at all," Fernandez said. "It instilled in me that I had to go to Div. I… Either you choose to go Div. I, or you take on student loans."
For a high schooler born into a lower-income family in the inner city, the prospect of taking on debt was intimidating. But Fernandez asked herself, "Do I really want to go Div. I or do something more academically rigorous?" As an athlete at Christ the King, Fernandez recalled that "you could go to class and show up and get a B+."
Fernandez wanted a more fulfilling education. Her junior year, she looked into transferring to a different school. She fell in love with The Lawrenceville School, a prestigious boarding school in New Jersey, and was faced with a tough decision.
On the one hand, at Christ the King, Fernandez already had interest from Dartmouth and Yale, but, she said, "When you commit to a Div. I school, you kind of sign your life away."
On the other hand, boarding school was expensive. "My mom was a big advocate," Fernandez said. The chance to go to an academically prestigious school was incredibly attractive. "I was enamored with the course catalog," she said. "The only question was, are we going to be able to afford this?"
Fernandez decided her education was a priority and transferred to The Lawrenceville School, where she had to repeat her junior year. "That wasn't all bad, though," she said. "I really needed it to prepare for college."
When it came time for her to apply for college, Fernandez turned down all of her Div. I offers. "After I had a very honest conversation with [Williams] Coach [Pat Manning], it was really a no-brainer."
On the court, Fernandez was the Ephs' starting point guard for all of her four years. At 5'7" — "with shoes," she was keen to point out — she had always been one of the smallest players on the court. Furthermore, at the collegiate level,  "the speed and tempo of the game was at another level. It took me a while to adjust," she said.
However, Fernandez managed to adjust just fine. "I scored 1000 points," she said. "Not that many people have done that at Williams." That being said, she was intent on giving credit to the people around her. "I attribute [my success] to, one, Coach and, two, all of the teammates I got to play with," she said. Even though Fernandez devoted much of her time to basketball while at Williams, she was always aware of the persistently approaching graduation day. "I knew I didn't want to be labeled just as a basketball player the rest of my life," she said. Her teammates reminded her, too: "You're gonna graduate, and then you're gonna have to get a job." Instead of letting it  intimidate her, Fernandez felt energized by the possibility of the unknown. At the College, she double majored in political science and music, picking up the viola and the keyboard along the way. When asked why she chose to be a music major, she laughed and said, "We can't live without music or water."
It was always business that really captivated her. But, from what she saw at the College, "Everyone was pursuing finance and consulting — do I really want to sit in an office and be micromanaged?" She paused. "That's not my style."
As a first-year, Fernandez spent a lot of time looking at Fortune 500 companies. A self-described sneakerhead, she was surprised when she discovered that Nike didn't recruit on campus. "I searched through the alumni database and found a woman who worked in the procurement department," she said. Fernandez reached out to the alum, Michelle Flowers '05,  at the end of her sophomore summer. "At first I was told that they didn't have any internships available for undergrads. But then a few months later, I get a call saying they opened up the internship."
Fernandez applied and ended up interning at Nike the following summer. By graduation, she had lined up a job at Nike's headquarters in Oregon. "Graduation was June 3, my birthday was July 8,and then my job started July 16. I literally moved across the country the day after my birthday," she explained.
Fernandez now works in the procurement division, where she sifts through data and figures out "how to negotiate with vendors on shoe prices and with material providers on the prices of soles, airbags and the other pieces of the shoe."
For Fernandez, living in Portland, Ore. is "a happy medium between crazy New York City and middle-of-nowhere Williamstown."
And even though she's 3,000 miles away, she said, "All of my Williams friends still call me all the time… Basically, I live in two different time zones."