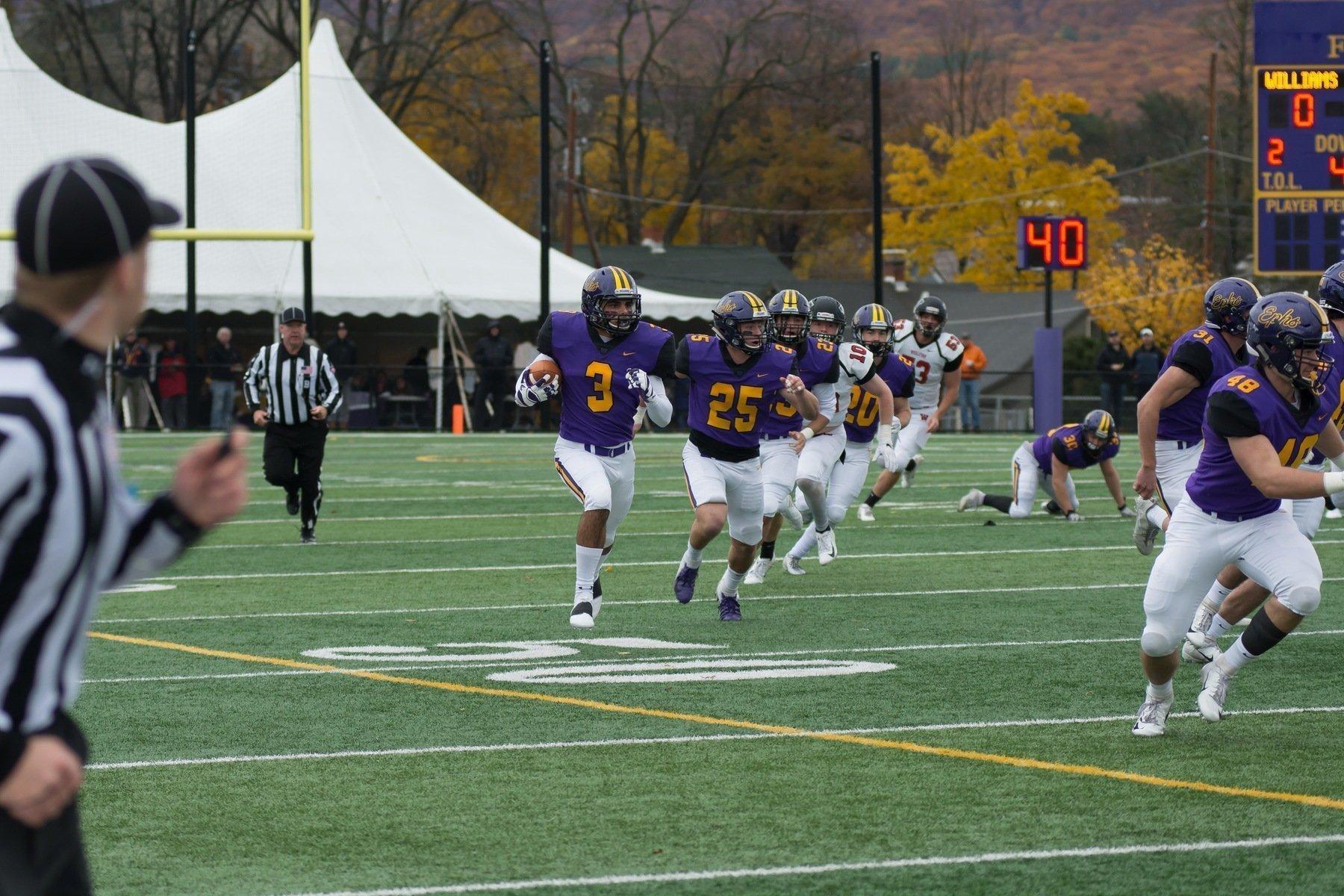 On Saturday, football's furious comeback fell just short as Williams (5-3, 5-3 in the NESCAC) fell to Wesleyan 21-14, despite two touchdown passes thrown by Jackson Bischoping '22  to Frank Stola '21 in the fourth quarter.
Both sides played a tough, gritty defense, which led to just one score – a seven-yard rushing touchdown by Cardinal running back Glenn Smith – in the first half. The first half was a battle of field positions, with the two teams combining for 10 punts. The lone touchdown came on a drive that started at the Williams 33-yard line, thanks to a nine-yard sack of quarterback Bobby Maimaron '21 by the Cardinals' defense and a 12-yard punt return.
In the first half, Williams led only two drives into Wesleyan territory. The first resulted in a holding penalty that stalled the drive, and the second came at the end of the half. With five seconds to go, Maimaron threw a pinpoint back-shoulder pass to Stola in the front-right corner of the end zone, but a Wesleyan defender broke up the pass at the last second to keep the score at 7-0.
"We were moving the ball, but we couldn't get in the end zone," head coach Mark Raymond said about the team's first-half performance. "Obviously, we were in striking distance at [the end of the first half], but we didn't make the plays we needed to."
In the third quarter, after five more consecutive punts, Maimaron suffered an injury that kept him out of the game. He was replaced by Bischoping, who was not afraid to throw the ball downfield. Bischoping immediately lit a spark under the offense, leading an impressive drive headlined by a jumping, 35-yard catch by wide receiver Michael DeGasperis '22. But on the very next play, Bischoping's pass was jumped and intercepted by Wesleyan cornerback Will Kearney, stalling the drive.
After a series of punts, Wesleyan quarterback Mark Piccirillo threw a pass deep downfield to wide receiver Hallvard Lundevall, who made a great adjustment on the ball and outran co-captain cornerback Amyhr Barber '19 to put Wesleyan up two scores with under ten minutes to go. On the next Williams drive, Bischoping was intercepted again – this time for a touchdown – by Wesleyan defensive back Eli Blair-May, giving Wesleyan a commanding 21-0 lead with five minutes on the clock.
The lead seemed insurmountable at that point, but the Ephs wouldn't let up, staying in the game until the final seconds.
Bischoping threw a fade to Stola in the back-left corner of the end zone to pull within 21-7 with just under four minutes to go.
After a perfect onside kick by Min Kyu Park '21, Bischoping led the offense on another touchdown drive, this one lasting just four plays. On a similar play to the first touchdown, Stola made an impressive catch on a fade pass, barely staying inbounds but nonetheless putting Williams back into the game, now down only one score.
Park's second onside kick bounced around with a chance for both teams to recover, but was eventually recovered by Wesleyan. However, the Ephs forced a punt and had a chance to tie with 1:29 to go and one timeout. But the stout Wesleyan defense prevented Williams from picking up a first down, sacking Bischoping on third down and forcing incomplete passes on first, second and fourth. The Cardinals then knelt out the clock to preserve the win 21-14.
Raymond was impressed by how his team never backed down. "They hung in there, and made some plays, but in the end, we were just a little short," he said.
Bischoping, on the other hand, is feeling confident about starting the Amherst game if Maimaron isn't ready. "I'm feeling good about next week, for sure," he said. "We're obviously playing a very tough football team, but I've got a lot of faith in my guys and I think we'll be able to get the job done."
Stola paced the Ephs' offense with nine receptions for 129 yards and two touchdowns, marking the third time in four games that he's caught at least nine passes. Linebackers T.J. Rothmann '21 and Jarrett Wesner '21 each made nine tackles, with no other Eph recording more than four.
For the Cardinals, Piccirillo completed nine of 17 passes for 151 yards, nearly half of which came on the big, 75-yard touchdown to Lundevall in the fourth quarter. Smith logged 16 rushing attempts for a mere 43 yards, but scored the game's only rushing touchdown in the second quarter.
Penalties were a significant issue for both teams. While Williams recorded 10 penalties for 90 yards, Wesleyan was penalized 14 times for 118 yards. Both teams struggled with third-down efficiency as well, as Williams went four-for-20, while Wesleyan went just one-for-13. Wesleyan outrushed Williams 121-to-eight (the first negative rushing performance from the Ephs this season), and recorded two turnovers – including a pick-six – while the Ephs had none.
It was the sixth win in a row in the head-to-head series for Wesleyan, who had shut out the Ephs' offense for seven straight quarters before the fourth-quarter comeback on Saturday.
Next Saturday, football concludes the season on the road against Amherst at 12:00 p.m., while Wesleyan looks to battle against Trinity.