Letters – Scarlet Rusch
April 20, 2022
To the beautiful screenwriter I met in a butcher shop in Prague
To my lovely sister, the most brilliant person I know
"It's wonderful to hear from you again. It makes me feel really special and important to have a friend that thinks of me and cares so much about me after all these years." Love you, [redacted]
I am obsessed with letter-writing. Since coming to Williams I've handwritten more than 400 pages of letters. Three years ago, my friend I met on my Dept. of State program to Moldova my senior year of high school introduced me to letter-writing and I entered a new world. I look for the finest stationery for my letters and there's an endless hole to fall into — pens, antique stamps, letterpress, screenprinting, artist trading cards, postcrossing, incowrimo, and more. I often illustrate my cards and envelopes and personalize everything that goes into them, from stickers to trinkets. There's no better feeling than the little lump of a letter in your SU box. Beyond that because I'm too easily getting away from what's important here. In a world where we're dissociated from our bodies, estranged from loved ones and our culture and traditions and nature, hearing your friend's quirks of speech in ballpoint blue pen, touching the otters in the snow stamps they chose, and reading about their triumph crafting a table made from a door, connects us to what we thought we'd long lost. I want to craft my letters into masterpieces and get them in a museum featuring female writers and artists one day. If I'm interested in someone's life and thoughts, I often ask to write a letter to them. Please reach out to me if you're interested in getting into this hobby (and don't be afraid I never thought I could do it either)!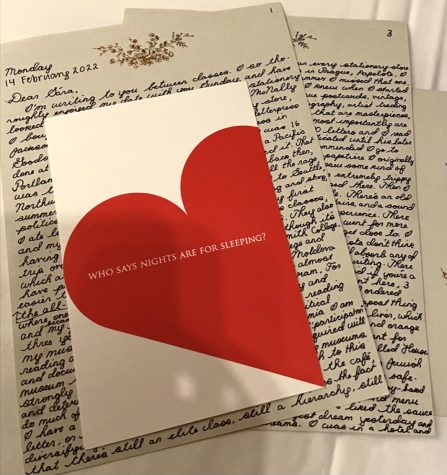 Letter One: I was in a butcher shop in Prague and complimented the woman who took my order. We exchanged Instagrams and went for drinks two hours before my train departed, the night before Valentine's Day. It was an incredible date, which started with her knowing The Secret History. She walked me to the main station ten minutes before my train, which ended up being the wrong station. If I would have taken the metro I would miss my train. I tried to call an Uber, but I would miss it. We hopped in an expensive taxi and she told him that we would tip him big if he could get me there in time. She told me to run for the train and when I got to it, the doors had closed. I pressed the buttons on the door, smacked the windows, and waved my arms, but the train left without me. There were no more trains until morning, and we planned on watching a movie together until she was able to negotiate me an extra spot on a flixbus back to Berlin.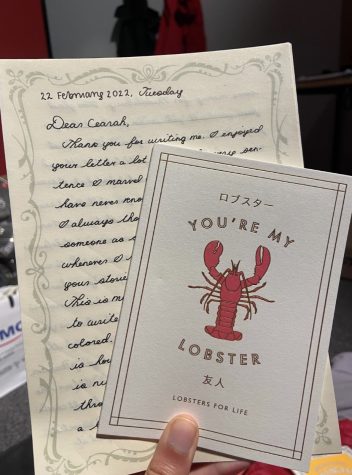 Letter Two: My youngest sister is eighteen years old. She is brilliant and so incredibly talented. She loves bold fashion and can often be seen wearing my great grandmother's fur coats and big, bright dresses with her enormous blond 'fro. I bought her the lobster card because she would insist as a child that she was the "seafood queen." She will be going to Middlebury next year, and I'm looking forward to finally being close to her again. Recently she wrote a letter to me and I'm excited about the two of us developing this kind of relationship — we were always the best of friends.