Spring semester COVID campus updates: College relaxes masking requirements
February 28, 2022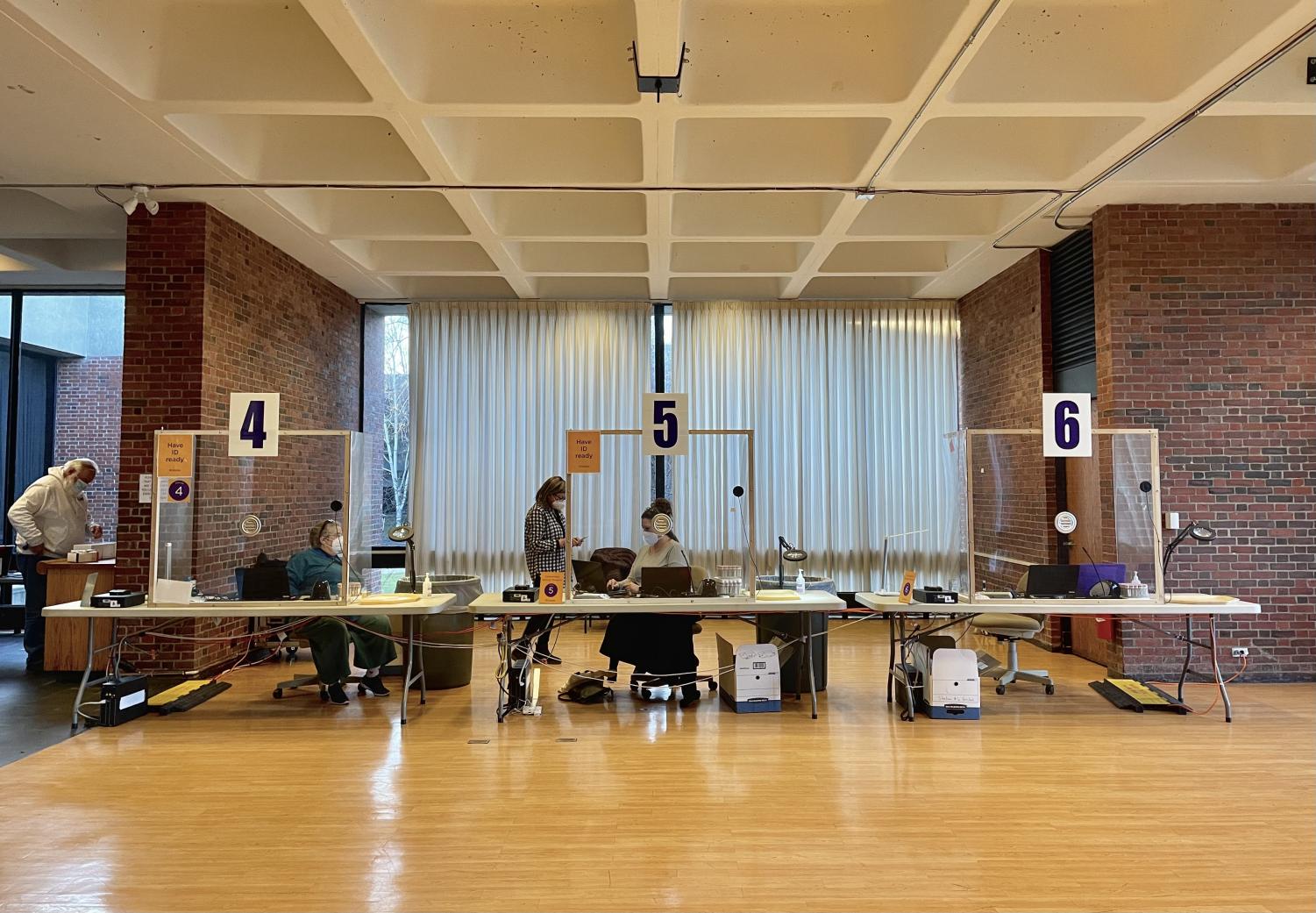 This is an evolving story. The Record will only be reporting cases if there are more than 20 positive results reported by the College on a given day. For more detailed day-by-day updates, please check the dashboard. 
College relaxes masking requirements
Effective immediately, fully vaccinated and boosted students, faculty, and staff are allowed to unmask in indoor athletics facilities, academic and administrative buildings, and at events that are open only to members of the campus community, Chief Communications Director Jim Reische announced in an all-campus email today.
Reische noted that today's announcement follows the Centers for Disease Control and Prevention's (CDC)  Feb. 25 revisions to masking guidelines, no longer recommends that 70 percent of Americans — those who reside in low and medium-risk counties — wear masks, social distance, and avoid crowded public spaces. According to Reische's email, Berkshire County is currently a medium-risk community.
Notably, this update lifts mask requirements in Paresky Center and Lasell Gymnasium. Students are no longer required to wear masks anywhere in dining halls, and faculty or staff working in student dormitories are also now permitted to unmask. However, masks are still required for students in COVID-19 isolation when picking up meals.  
Despite these relaxed rules, the College will still require masks in locations in which there are greater chances of COVID spread or interaction with people outside the campus community. With the exception of faculty members who choose to unmask while teaching, masking requirements remain in classes, at COVID testing sites and the Health Center, at the Children's Center, the Williams College Museum of Art (WCMA) during the hours it is open to the public, libraries, indoor sections of visits through the Office of Admissions, and other indoor events or spaces that are open to the public.  
The nuances of these rules mean that students will not be required to mask in buildings when going to or from class or in classrooms when classes are not occurring, but they will be required to mask during class sessions.  
Reische noted that the College is considering removing the mask requirement for classes in the future, but is not ready to do so now. "We think unmasking in classes is a likely next step, but not quite yet," Reische wrote in the Feb. 28 email. "Classrooms are distinctive in that attendance is required and opportunities for distancing may be limited. So we want to watch the test results for a period of time following today's changes before deciding on the timing of such a change."
He added that, should COVID rates rise, the College reserves the option to reimpose masking requirements as it sees fit. Moreover, he stressed that today's policy update only affects vaccinated and boosted members of the community, and that those who are unvaccinated or unboosted must continue to mask as before.
Today's announcement comes on the heels of last Friday's COVID policy updates which eased restrictions following overnight travel away from the College. Quarantine is no longer required for students returning from overnight travel outside Berkshire County, however, students are still required to wear a mask upon return, and continue to do so until receiving a negative PCR test.  
In response to the announcement, Bea Moyers '25 said that she finds it sensible that the College is removing masking requirements in stages. "I have huge sympathy for [how] difficult it is for administrators to balance public health concerns with a desire for normalcy," she said. "I feel like the College is doing the best job [it] can under the circumstances." 
College loosens masking guidelines, testing requirements
Feb. 11 | 5 p.m
Students can now unmask in all residence halls and eat and drink indoors anywhere except classrooms, Chief Communications Officer Jim Reische announced in the Campus Operations and Business Continuity Update on Feb. 11. Also, effective Monday, Feb. 14, students will only need to test for COVID-19 once a week. 
Beyond residence halls, students can also unmask while eating in the dining halls and during varsity and club sport practices, registered student organization (RSO) activities, and arts performances. However, masks must still be worn while playing pickup games, walking through athletic facilities, in locker rooms, during practices for out-of-season varsity teams, and during team travel to off-campus venues.
All student performances and most sporting events will be open to the public; the exception for sports will be when there is not adequate space to maintain appropriate distance, most notably for wrestling. More detailed policies on a sport-by-sport basis are available on the College's athletics website. 
Students in isolation can now enter Paresky masked to pick up meals and mail. On the fifth day of isolation, students will take a rapid test, and may leave isolation if the result is negative. If the result is positive, they will be given five more rapid tests and will take one each day until they get a negative result.
In settings like classrooms, that require masking, cloth masks alone are not sufficient protection, Reische wrote, and the College encourages the use of KN95s, K94s, and N95s. In a follow-up email to the Record, Dean of the College Marlene Sandstrom clarified that 3-ply surgical masks are also acceptable.
This story was updated on Feb. 11 at 7:45 p.m. to include comment from Sandstrom.
College reports 21 new student and four faculty and staff positive cases over two days
Feb. 10 | 12 p.m. 
The College reported 21 new student cases and four new faculty and staff positive cases, which were received on Tuesday and Wednesday but posted on Thursday. 2018 test results were added to the COVID dashboard around 11 a.m. This brings the weekly positive total to 51 for students, faculty, and staff combined, and 44 for students. The College's weekly positivity rate is 1.31 percent as of Thursday.