In aftermath of GameStop surge, students reflect on a unique cultural moment
March 3, 2021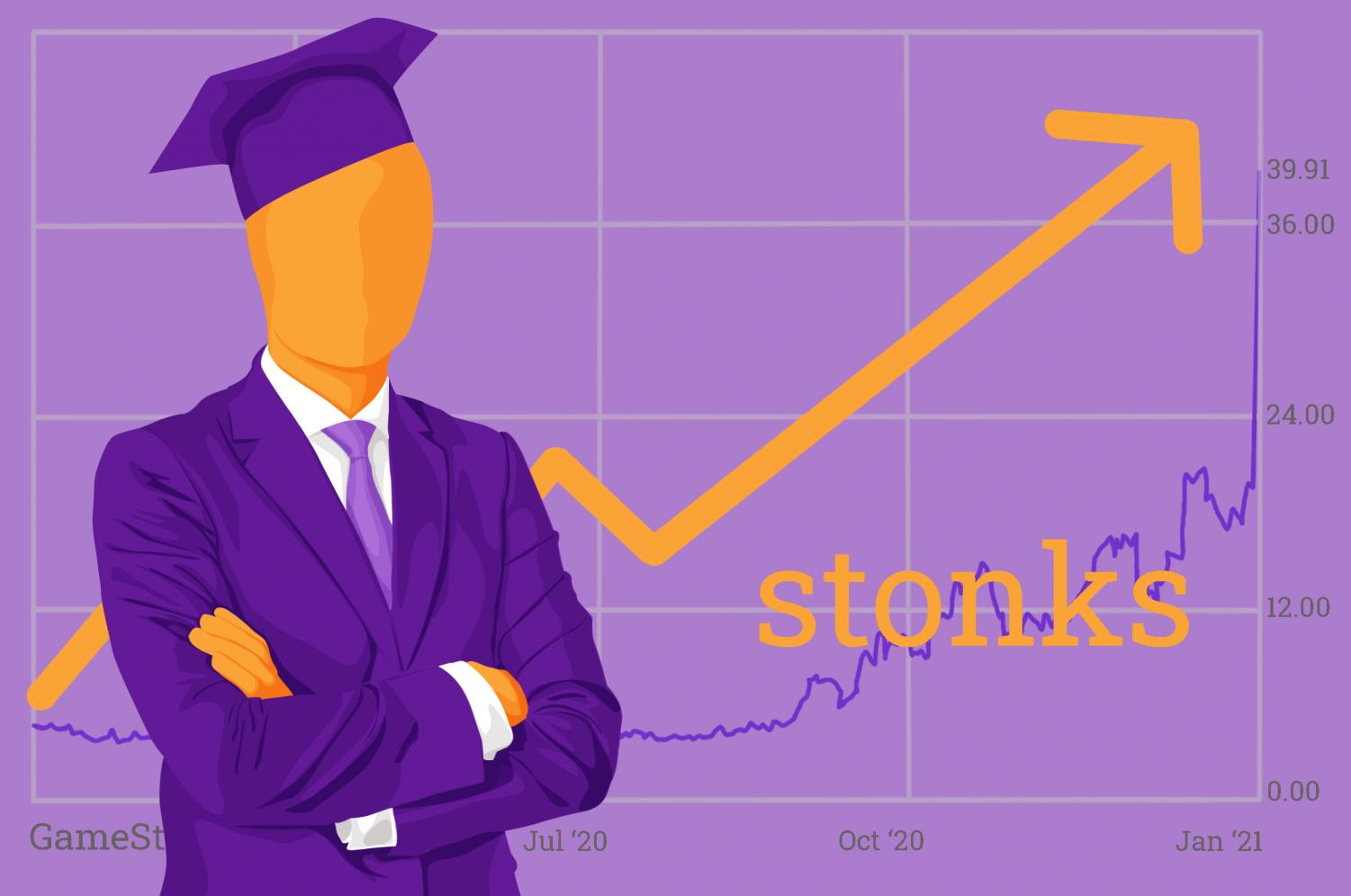 When Abdulrahman Kaliyu '22 visited the r/WallStreetBets subreddit, a forum where mostly anonymous users discuss stock trading and investment strategies, on Jan. 31, he was met with a mishmash of excitement, inside jokes, and memes. 
"There were so many memes, of course," Kaliyu recalled. "And then there were these things called due diligence posts, where people would post about research they did. I don't think it was, like, real research."
The level of excitement within r/WallStreetBets had reached a fever pitch. In a semi-coordinated act of real-world trolling, Reddit users had purchased GameStop shares and options to inflate its price to astounding levels, peaking at nearly $350 per share. (The stock had entered the new year at a relatively paltry $17.25.) Adding to the chaos, hedge funds and investors who had shorted — bet against — GameStop were losing money at ridiculous rates, introducing the term "short squeeze" into everyday discourse.
By the time Kaliyu was clued into the situation, the price of GameStop shares had already skyrocketed by over 1700 percent. Scrolling through the chatter on Reddit, he thought there was still room for even more growth.
"It seemed like a lot of people were holding off the stock or buying more," Kaliyu said. "There's this term they use called 'diamond hands.' So I actually started believing that it could have been squeezed even higher. That's why I invested."
When trading opened on Monday, Feb. 1, Kaliyu watched his shares plummet in value. He sold them later that day.
"Yeah, I lost money on it," he said. "The reason why I ended up selling it was because I had no idea where the stock was gonna go. And there's no fundamentals for GameStop — it's a dying business."
Now, a mere month after GameStop stock reached its apex, television and movie deals about the phenomenon are already in the works. In response to decisions by stock trading and investing apps like Robinhood to suspend trading on GameStop and other "meme stocks," politicians on both sides of the aisle took the opportunity to speak out against corporate greed.
The GameStop craze was able to burst its way out of a subreddit and into the public consciousness. It also impacted College students both directly and indirectly. Some, like Kaliyu, invested in the company. Others were warier, electing to stay on the sidelines. As the dust settled and the congressional hearings continued, the Record spoke with students about their involvement in the GameStop frenzy and views on what its long-term impacts, if any, will be.
Beating Wall Street at its own game
A student who will be referred to by the pseudonym "John," because he risks professional consequences for speaking about his involvement, had been aware of r/WallStreetBets and its GameStop obsession. In mid-January, a friend of his encouraged him to look at GameStop, which was trading at roughly $40 a share at the time.
"I went straight to r/WallStreetBets to see what was going on," John wrote in an email to the Record. "All I saw were rocket emojis and everyone saying 'GME to the moon.'"
John shrugged it off at the time. But a couple days later, when he checked again, the share price had risen to $60.
"My friend was euphoric and was demanding I join in, calling me a coward if I didn't," he said. "I said I would take the weekend to decide. I scoured the [sub]reddit that weekend spending nine to ten hours trying to figure out what was going on. Cutting through all the crap of memes and jokes, I found some of the most intelligent analysis and understandable analysis I had ever read."
John bought in at roughly $90 a share. At first, the price faltered, and his position looked unsteady — but he refused to sell, partially for the sake of revenge. "The aspect that really kept me in was screwing over Wall Street," he said. "I have a deep hatred for Wall Street and I know investing in [GameStop stock] really screwed them over."
His tenacity paid off. John would go on to sell his position at $300 a share. In his opinion, the emotional rollercoaster of investing in a meme stock was well worth it.
"I am so glad I was part of a big screw you to Wall Street," he added. "This is a movement that I loved to be a part of and was glad I participated in."
Pushing the stock market into the public sphere
Students involved in pre-professional finance communities at the College had mixed opinions on GameStop's big moment.
"In a couple years, we'll just look back on it and laugh," Sameer Jain '23 said. Jain, a co-chair of the Williams Finance Club, chose not to invest in GameStop at the time due to the stock's volatility, and in retrospect, he viewed this as the right move.
"There were definitely a lot of people that made a lot of money, but there were just as many that lost a lot," Jain said. "People lost their life savings."
Jain believes that the COVID-19 pandemic helped spark a surge of interest in retail — non-professional — investing that could have contributed to GameStop's stock taking off. "I think that during this time, people didn't have much to do," he said. "People had disposable income that wasn't going towards things like vacations or whatever… so we saw a lot of people start to trade on the stock market through apps like Robinhood that are kind of meant for your everyday person."
Chandler Dula '23 is a co-president of Margins Finance Club, an organization which focuses on making the field of finance more accessible to groups that are underrepresented and marginalized in the industry. He said he believes the GameStop craze prompted important questions about the stock market, in part due to the controversy surrounding Robinhood's decision to freeze trading of GameStop and other meme stocks.
"I think this did expose the system a little bit, and it exposed it in a way that reminds us of the question of who gets to make the decisions on wealth and value," he said. "Who actually is entitled to that — is it just the hedge funds? Is it just these people in these top organizations? Or does everyone have a role to play?"
Going forward, Dula sees this phenomenon as an opportunity for Margins to get people interested in finance.
"We really want to center discussion about it," Dula said. "I think our club prides itself in providing education, first and foremost, and also opening up the avenues and doors to underrepresented minorities and groups that haven't been able to easily break into finance and do not have the required knowledge or highbrow sense to get involved."
"[Finance] is not just for a select group of people," he added. "And we have to have these discussions and these moments that shock the world and that shock the people in power."
Lasting impacts; lessons learned
Though it may never reach the same heights it once did, GameStop stock is currently selling at upwards of $100 a share. Its recent rise allowed Kaliyu to recoup some of his losses. "The other day, I bought it," he said. "I bought at like $83. And then I sold it at like $91. Nice to have a little bit of my money back." 
Unlike his first investment, this time he acknowledged from the start that "it was a straight gamble."
Students involved in finance organizations on campus offered words of warning to those who might have been inspired by the GameStop saga to try their hand in the stock market. 
"I would recommend maybe not playing with some of these more risky areas, at least initially," Jain said in reference to financial speculation.
Kaliyu and John struck a different note. Regardless of having lost or gained money, neither harbored regrets.
"For that entire week I ate one meal a day, slept three hours, and could barely function because of the emotions I felt," John said. "But it was easily the most entertaining week I had in all of break."
"Even though I lost money, I definitely think it was worth it, cause it was a really cool experience," Kaliyu said. "I had a great time."