The chemistry department: Alum couples reflect on College romance and beyond
February 10, 2021
Jamie Kerman '93 and Sara Diaz '93 thought they would have a quick, discreet marriage at the Williamstown Town Hall, but the local Justice of the Peace had different plans. 
By the end of a phone call that was originally meant to arrange Kerman and Diaz's elopement, the justice had already planned a small wedding at their friend's house, which was just "around the corner" from the Town Hall.
So Kerman and Diaz's elopement turned into an informal ceremony with three guests. They wore jeans and a sweatshirt.
"It was just so Williamstown, you know?" Diaz said.
It is with this same fondness that many College alum couples look back at the years that bonded them together, regardless of whether they dated through college or only reunited after graduation. This year, in honor of Valentine's Day, the Record spoke with eight alum couples whose relationships have stood the test of time.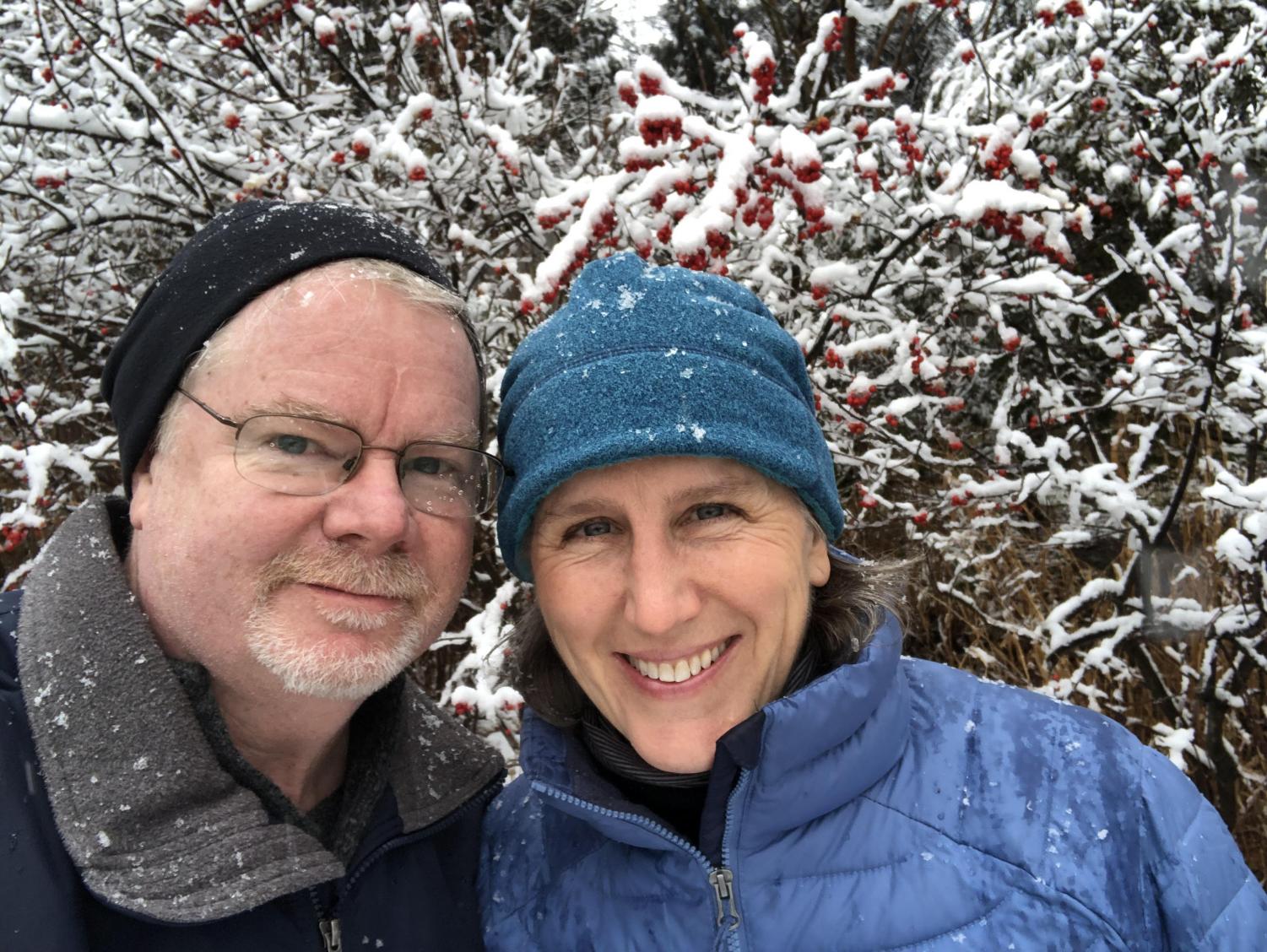 Maureen McDonnell '86 and Mike Curtin '86
Despite graduating in the same class, Curtin and McDonnell had not met each other until their senior year. "Michael was in the rugby, beer-drinking circle," McDonnell said. "And I was in the African drumming circle."
Rarely did those two circles ever intersect, but a College-sanctioned party for their class brought them together. When they ran into each other at the 86 Days Party (a keg party that was held 86 days before graduation), Curtin was instantly smitten and later asked McDonnell to the Spring Dance. "I think I totally caught her off guard, so against her better judgement, she said yes," he said.
However, the night of the dance, Curtin was hospitalized after a serious back injury during a Little Three rugby tournament. He spent most of his time in the infirmary for the rest of their spring semester. When he later asked McDonnell to the Senior Dinner Dance, McDonnell turned him down. "I was kind of like, 'I don't even know this guy,'" she said. "We had totally different experiences … I really didn't want to have this culminating Williams event with [someone other than] my great friends."
"It was definitely the right move," Curtin said.
"I'd never broken anyone's heart," McDonnell laughed. "He still talks about it."
After graduation, the two parted ways. Curtin flew to Japan while McDonnell went back home to Buffalo, N.Y., and after several months of sporadic letters, they lost touch. A couple years later, McDonnell relocated to Washington, D.C. where, one fateful night, she ran into Curtin during her birthday pub crawl.
Soon afterward, she sent him a card with a watercolor painting of a Zen rock garden Curtin had constructed for a final project in an Asian Studies class. Within it, she had written her phone number. "It was a time when I was trying to reconnect with some Williams friends and the whole experience," she explained. 
McDonnell hadn't written the letter with romantic intentions, but Curtin didn't get the memo. The moment he received the card, he picked up the phone and left a voicemail: "Hey, this is Mike Curtin. I don't know if you remember, but Saturday night is four years from the date that never was. Do you want to try again?"
"And I was like, 'Oh my God, this guy's more sentimental than I am," McDonnell said. "'I'm calling him up.'" 
They married a year later in 1991 with a wedding reception chock-full of College friends and family. Despite the missed opportunities of senior year, the two said they have no regrets. "I don't think it would have worked [if we began dating at Williams]," McDonnell said. "I think we both had maturing to do."
"God knows, if we had gone to Spring Weekend, that probably would've been the end of it," Curtin agreed. "We wouldn't be sitting here right now."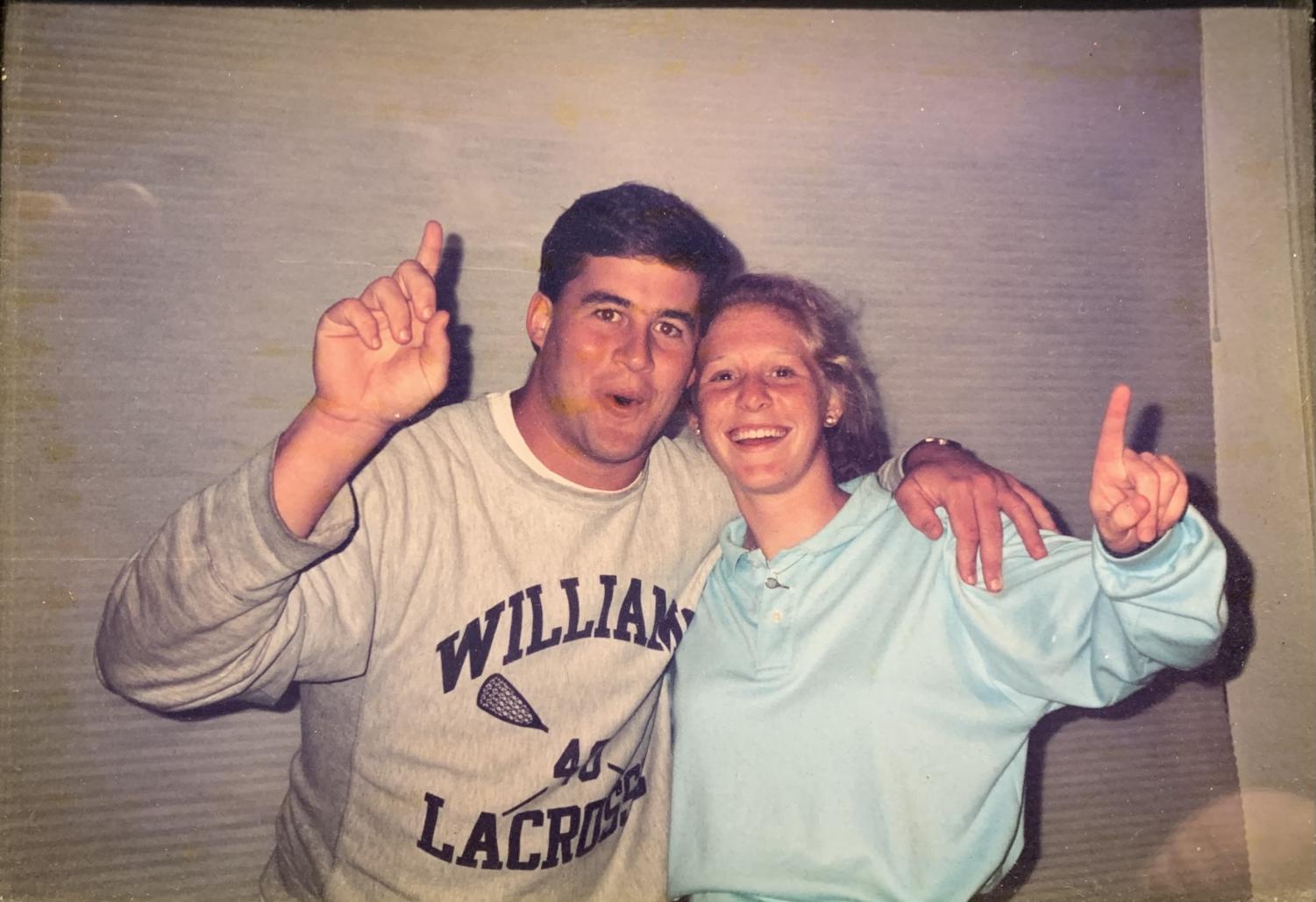 Andrew Everett '92 and Elise Newhall Everett '94
When Elise Newhall Everett decided to matriculate at the College, her mother gave her a piece of advice: "Whatever you do, stay away from those prep school boys." And she did just that up until her sophomore year, when she joined the Women's Club Hockey Team, which was coached by senior (and prep school graduate) Andrew Everett. 
"It was funny, right?" he said. "Because it's a delicate line between a fellow student but also the coach, and then you develop a crush on your first line left wing thinking, 'Okay, this is a little awkward,' but not really ever wanting to do anything about it. But also not wanting to not do something about it."
After struggling with these conflicting thoughts and feelings, Andrew Everett decided to wait until the season was over. A week after the season ended, he approached her while she was doing math homework. It took nearly 15 minutes before he was able to muster the courage to ask her to watch a movie.
"Sure, Coach," she said.
"I was like, 'Let's use Andrew here,'" he recalled.
But two weeks later, she was on the phone with her mother, explaining that she was considering not seeing him again. After all, she was busy — not only was she on the hockey team, but she was also on the tennis team and the pre-med track. 
"She basically just didn't have any time for some lax bro dude in her life," Andrew Everett said.
Fortunately for him, Elise Newhall Everett's mother convinced her to give him a chance and to see their relationship out to the end of the year. They have been together ever since.
After years of being mostly long-distance, Andrew Everett proposed while the two were on a cross-country road trip to Seattle. But the ring he presented wasn't a traditional engagement ring. Instead, it was a blue candy pop ring, a callback to a running joke from college that the only ring she ever needed was a sucker ring. For the rest of their engagement pictures, Elise Newhall Everett had blue lips and a blue tongue.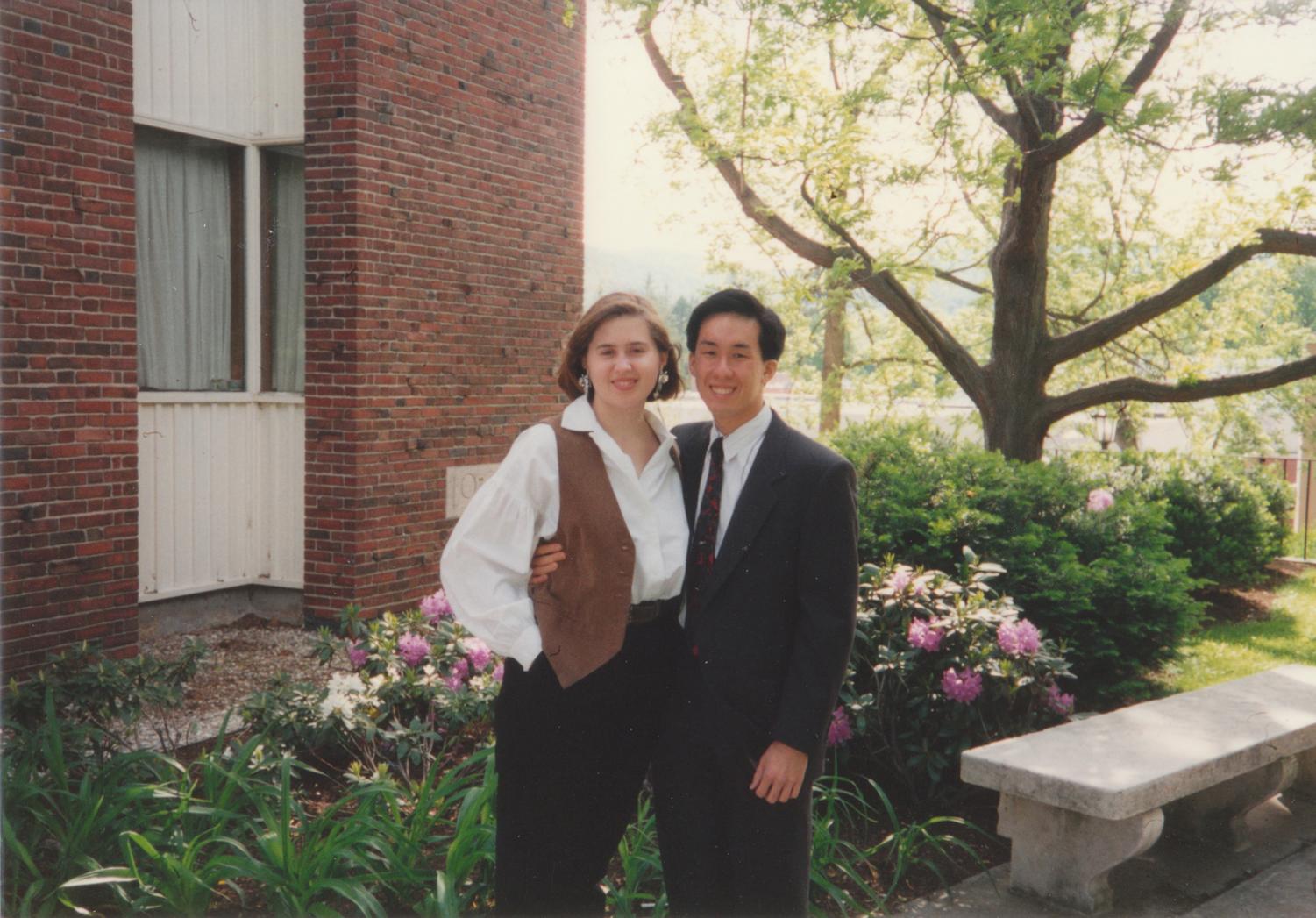 Dennis Kuo '93 and Kathrine Kuo '93
The circumstances of their first meeting are a point of contention for Dennis and Kathrine Kuo. "Allegedly, we met at a Combo Za concert," she said. "And I say allegedly because I don't remember it happening."
Dennis Kuo continues to insist that he and his wife first met at a concert in their first year. Despite living on the opposite sides of Frosh Quad, she knew people in his entry, and they all happened to be attending the concert together.
Their next (and first, according to Kathrine Kuo) meeting wasn't until a year later, at the start of sophomore year when they were drawing lots to determine room assignments in Prospect Hall. If someone chose a suite, they had the option of pulling other people into the various rooms of the suite. 
Dennis Kuo just so happened to draw number two. 
"I can't explain this except to say that I have no shame whatsoever," Kathrine Kuo said. And it was that shamelessness that let her and her friend walk up to Dennis Kuo and beg him, a virtual stranger, to pull them into his suite. 
"So my reasoning was, 'At the very least, I'd probably get pretty decent neighbors,'" Dennis Kuo said.
"Yes," his now-wife laughed. "'Dear Diary, today, I pulled my future wife up into my suite.'"
Their relationship developed organically, and by junior year they came to the conclusion that it was more than a standard friendship. Despite the new dimension to their relationship, they said that it was the simple act of being together that made them happiest.
"In college, I remember actually just sitting and studying in the same room, and just being very content in that," Kathrine Kuo said. "And I think that's probably pretty emblematic of us in general."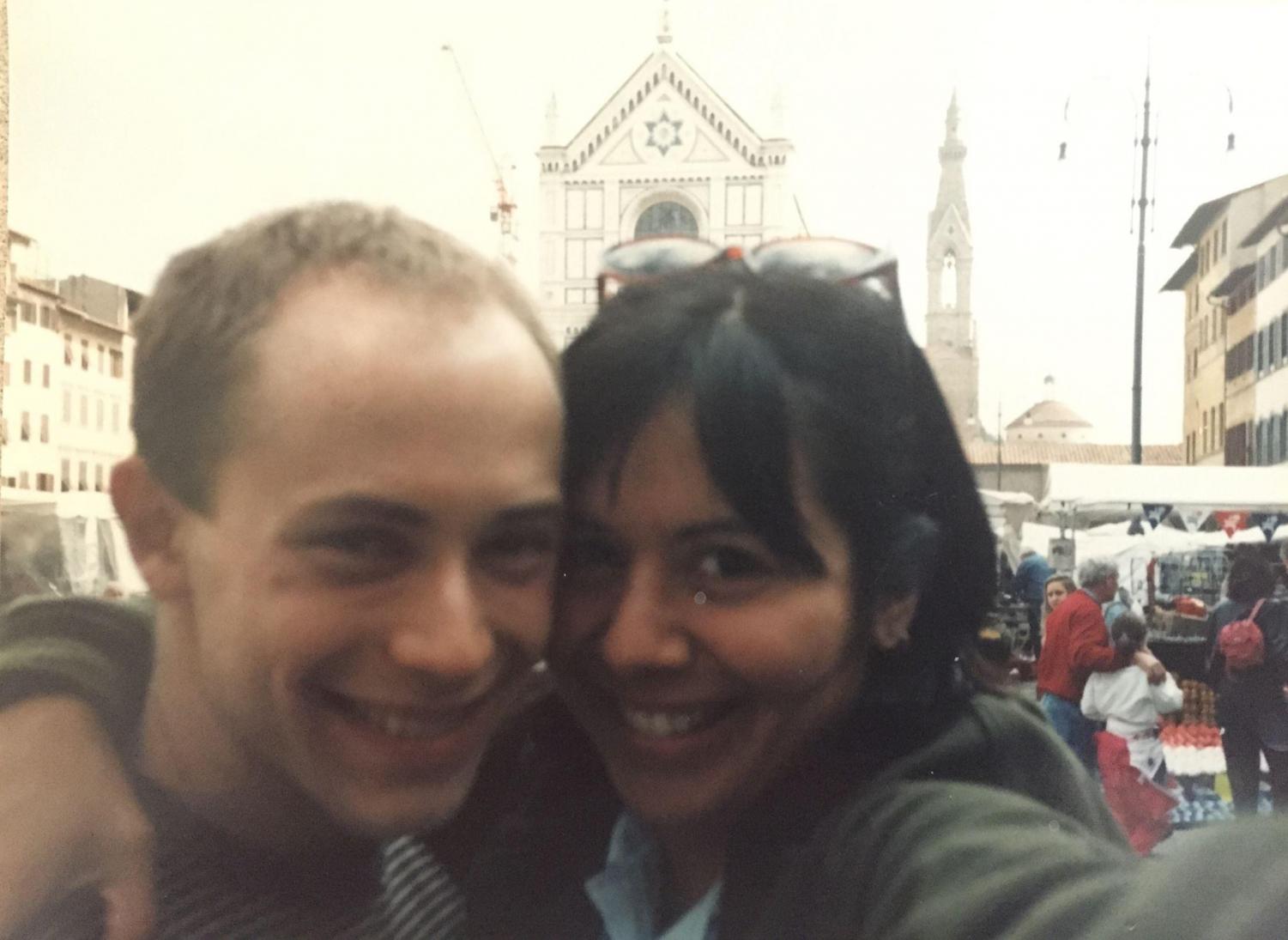 Jamie Kerman '93 and Sara Diaz '93
"I already knew at the beginning, but it took her a while," Kerman said. Diaz laughed before agreeing. 
The two first met during the first social event arranged by the JAs of their entry. That night was the first time Kerman had ever gotten drunk. Diaz stumbled across him, sitting on the floor of a common room, and she decided to sit next to him.
"He made a big fuss," Diaz recalled. "He wanted me to sit on a chair because I was wearing a red dress, and he didn't want my dress to get dirty or stepped on."
That was the beginning of a seven-year, strictly platonic relationship. Diaz soon entered a serious five-year relationship with someone else, but she and Kerman retained a strong friendship, despite never sharing the same classes or social circles. The summer before junior year, Kerman stayed on campus for research while Diaz stayed as a science tutor with her girlfriend, and they began to spend more time together.
"I was completely clueless that Jamie was at all interested," Diaz said. "The friendzone, I guess."
After graduation, Kerman found himself at Stanford for his PhD while Diaz headed to Switzerland to teach at The American School in Switzerland. Despite the distance, they continued to stay in touch. During the last year of her time in Switzerland, Diaz began to visit medical schools, including Stanford.
Diaz arranged to meet up with Kerman and found herself standing in front of a Noah's Bagels in downtown Palo Alto, watching Kerman's 25-foot long 1969 station wagon roar straight past her. As he passed her, she distinctly remembers seeing him in profile, catching her breath, and thinking, "Oh. That's unexpected."
Once Kerman finally managed to turn his car around after realizing he had driven right past Diaz, they spent the day together. Though the reunion wasn't meant to be a first date, Diaz turned it into one when she asked him if he was going to kiss her.
"He doesn't remember this part," Diaz said, "but he said he wanted to, but he was afraid he'd wake up. I know. Smooth."
The two kept in touch by email when Diaz returned to Switzerland, but after a surprise visit from Kerman and a weekend in Florence together, their relationship grew more serious.
Kerman proposed when Diaz was in her third year of medical school in San Diego. During one of Diaz's free weeks in between grueling 40-hour shifts, Kerman asked her what she wanted to do. "I want to get as far away from San Diego as possible," she said.
So they went to Paris, where the Eiffel Tower was decorated with a special light display that included a countdown to the new millennium. With 99 days left in the year 1999, Kerman proposed to Diaz on the top of the Eiffel Tower.
They've now been married for over two decades. Some of their favorite moments are when they are simply together. "I remember telling him that I looked forward to just being able to look over and watch him brush his teeth," Diaz said. "It doesn't have to be momentous. Just the fact that we are choosing to share them with one another makes them wonderful."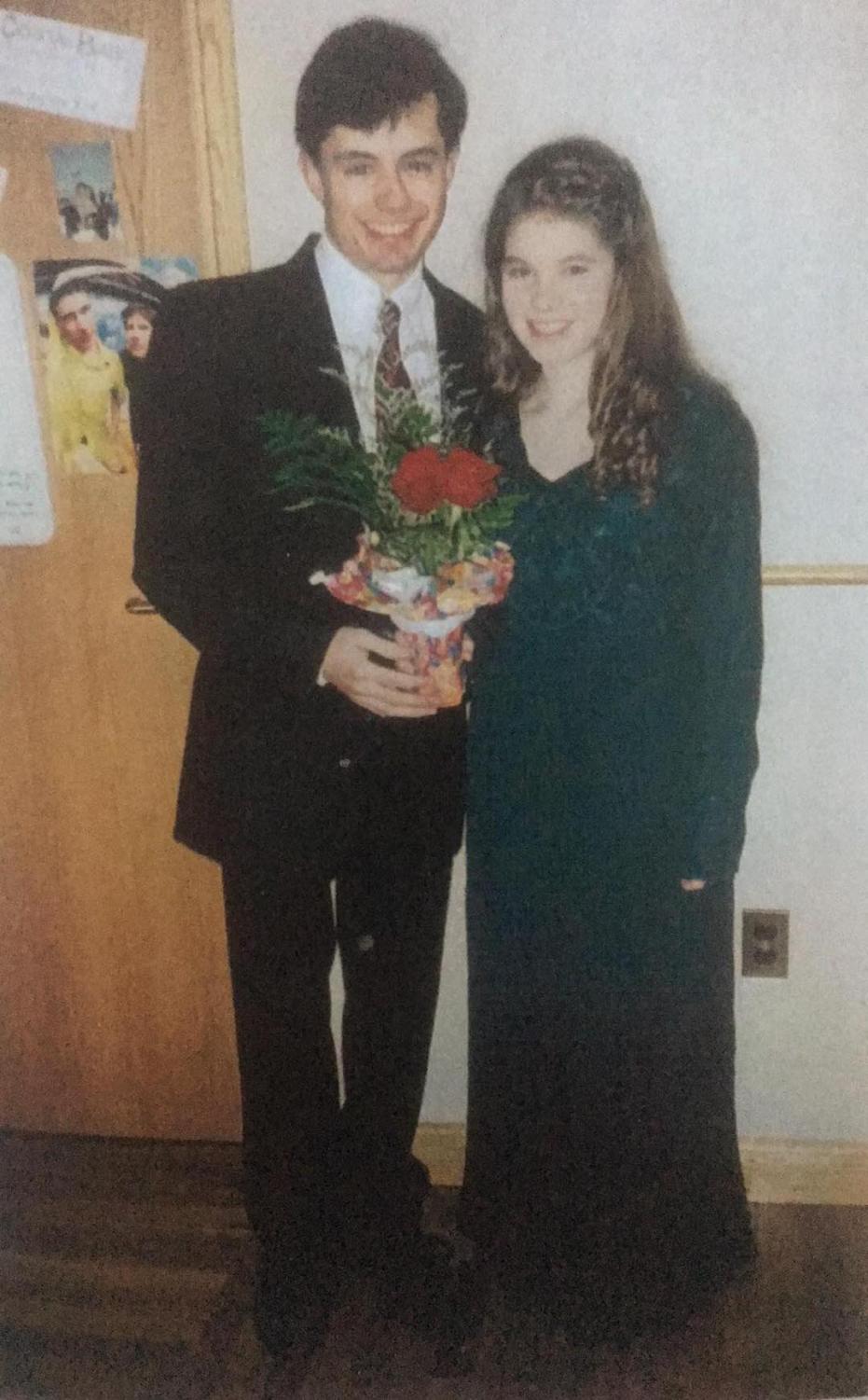 Darik Vélez '01 and Elizabeth Vélez '02
In the fall of 1998, Elizabeth Vélez was a nervous first-year who couldn't find her WOOLF orientation group. After finally finding her way to the field where all the WOOLF groups were supposed to assemble, she headed towards the first group she saw and asked whether her name was on the list.
"And I look[ed] up. I hadn't looked at the list yet," Darik Vélez, one of the WOOLF leaders of the group Elizabeth approached, said. "I distinctly remember thinking, 'God, I hope so.'"
And as it turned out, she was. For the entirety of their WOOLF trip, he accompanied her at the back of the group through every single hike. 
Even after First Days ended and classes started, fate seemed to have plans for Darik and Elizabeth Vélez. They would often run into each other during mealtimes and soon began to plan their meetings, eating meals together and spending time in Prospect. One day, as they were sitting on a futon spread out across his floor, she asked, "What's up with us?" The question was prompted by the fact that they were holding hands.
Neither of them had a fully formed answer. "Darik might have asked [if we should date]," she recalled. "I said that I was 17 and grew up very conservative Christian and wasn't looking to date at all. So, no, we shouldn't date, but wasn't it nice that we were friends?"
"While still holding hands," he added. "In a very formally Christian way."
However, the "just friends" phase did not last. The next week, they shared their first kiss during a movie night in the basement of Prospect. The following night, the pair climbed to the top of the Hopkins Observatory, where they decided to start dating.
They stayed together for the next two years until Darik Vélez's graduation, when they made the difficult decision to break up. He was headed to Puerto Rico for research while Elizabeth Vélez planned to study abroad in the Czech Republic. 
Despite being in different hemispheres for the next year, the two kept in touch. "We were not dating," he said. "We were just writing tomes to each other every night."
"So yes, we weren't good at not dating," she summarized.
The following year, Elizabeth Vélez was back on campus, and Darik Vélez was teaching at a private school in Connecticut. This time, the long distance was much easier to handle, especially when he gave her his leased car along with his gas card so she could visit him over the weekend.
Darik Vélez would later propose to Elizabeth Vélez on the same field where they first met. Within this full circle, Darik Vélez is grateful for the journey he and his wife have had. "We were discovering all the things that you normally discover through a period of dating different people," he said. "We kind of had to discover it together."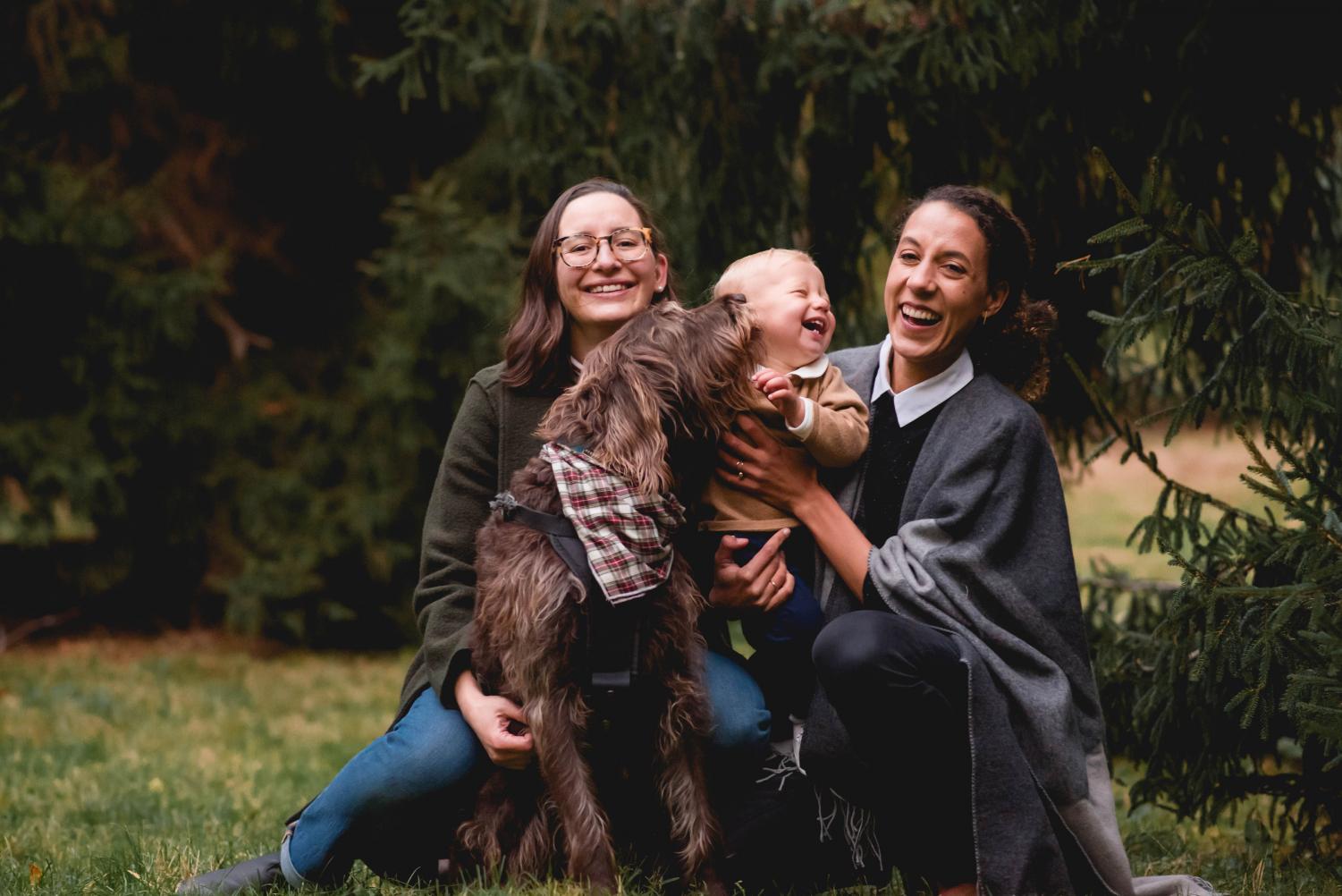 Lauren Sinnenberg '10 and Tyler Rainer '11
"This is probably a lesbian cliché, but we played in the same soccer team," Rainer said. The two were teammates and friends for nearly three years before they began dating in the week leading up to Sinnenberg's graduation.
"We found ourselves lingering," Sinnenberg said. "When we would be hanging out with a group, we would stay and talk … I remember standing in the Morgan staircase for an hour talking to Tyler."
Before their relationship with each other, neither Sinnenberg nor Rainer had ever dated another woman before. As they were navigating the formation of a new relationship, they were also navigating an unexplored facet of their identities.
"We're obviously both gay," Sinnenberg laughed. "So it was like, 'Oh, yeah, this is what it's supposed to be like,' you know what I mean?"
"Everything is more intense," Rainer agreed. "Like more passion, more love, more fear, more — all of this. All of the things are amplified."
At the same time, the fact that neither were public about their sexuality yet added a dimension of anxiety to their burgeoning relationship. "Our Williams soccer community is some of the most loving, respectful, caring, open-minded humans that exist," Rainer said. "But I think there's first-time fear and anxieties."
"I think we had built it up," Sinnenberg agreed. "It didn't end up being an issue. We used to go on dates to Northampton, so we could hold hands."
After Sinnenberg graduated, she moved to New York. While she originally planned to spend a year in South Africa, she ultimately decided to live and work closer to Rainer, who joined her the following year, after her own graduation. They separated for another year when Sinnenberg headed to Philadelphia, Pa. for medical school before Rainer joined her again.
Despite multiple periods of being long-distance, the two said they were simply happy to be together. "We were basically not explicitly dating but in a romantic relationship over Skype," Sinnenberg said. "It was definitely very emotional; it definitely felt like it was a relationship. So then, for it to go back to distance, I think probably felt kind of natural to us. It was sort of the way in which we had known each other."
When Sinnenberg proposed to Rainer, gay marriage had not yet been legalized nationwide. "We kind of went into getting married thinking that we weren't going to be able to make it legal on a federal level," Sinnenberg said.
But a month later, the Supreme Court's ruling in Obergefell v. Hodges legalized same-sex marriage across the country. "We actually had friends who got married the weekend after it was legalized," Sinnenberg said. "That was a pretty emotional time."
Rainer and Sinnenberg themselves were married in the Catskills, N.Y. Though they chose not to return to Williamstown for their wedding, as many other alums did, the College still has a strong presence in their lives. "The home we live in currently is from Williams alums," Rainer said.
"And our grill is from Williams alums," Sinnenberg added.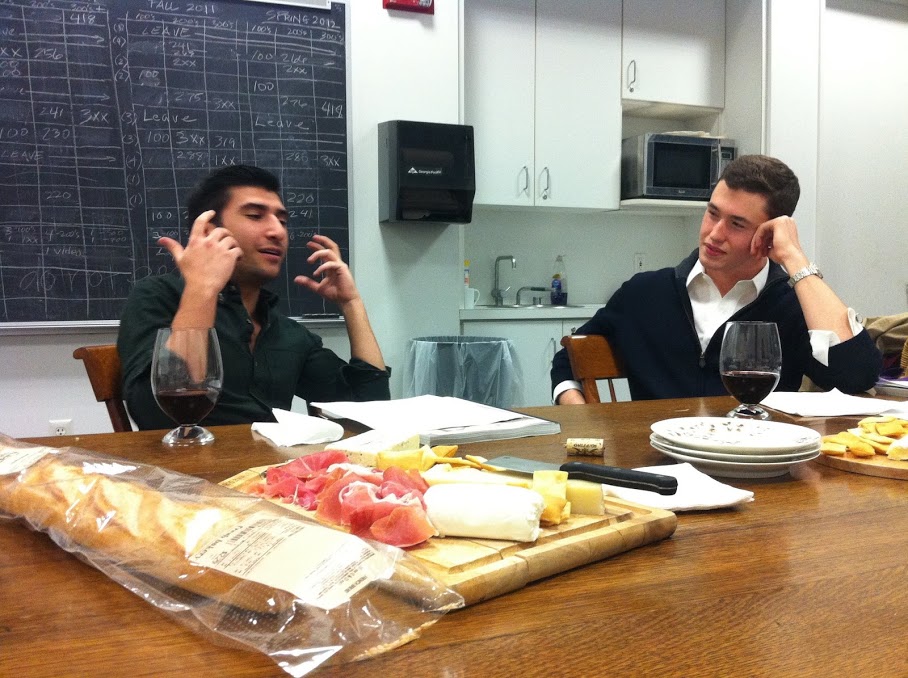 John Maher '12 and Robert Khederian '12
Maher and Khederian first met in Professor Stefanie Solum's ARTH 232 Renaissance Rome class, wherein Khederian's first words to Maher were a compliment on his socks. "And I was not out yet at that point," Maher said. "So that was not really on my mind."
Though the two wouldn't start dating until their senior year, they became friends. The timing was never right for a while. During their junior year, Maher studied abroad in the fall, and when he came back, Khederian went to study abroad in the spring. It wasn't until their senior fall that they were in the same class again — this time, a Michelangelo tutorial with Solum.
However, the situation was complicated by the fact that Maher was in a long distance relationship with someone he met while abroad. Over winter break, Maher and his then-boyfriend broke up. 
The day they returned for Winter Study, he and Khederian began dating. "Because we really had developed a very close friendship," Maher explained. "Robert would probably not call it a friendship. He'd probably say that he was seducing me or something."
"Like a succubus," Khederian agreed. "Yeah, no we were very, very close … It just felt very natural. And then, we really just hit the ground running, which I would not recommend for anybody."
With graduation came a crossroads. Khederian was moving to New York while Maher went to Germany as a Fulbright Scholar. "We had to decide whether we were going to stay together for that year of me being away," Maher said. "And Robert was very resistant. And I was very persistent, and we stuck it out, but it was tough to do long distance for a year in very different time zones."
Neither of them had ever expected a long-term relationship to come from their time at the College. They both distinctly recalled the constant emphasis during orientation on a statistic that 60 percent of College alums marry other alums (despite the rumor's pervasiveness, the true statistic is probably closer to 20 percent). "It wasn't even crossing my mind as something to consider," Maher said. "That was in no way a goal of college."
"I love Williams, but the gay scene at Williams is abysmal," Khederian added. "If you're a member of the LGBTQ community at Williams … there was literally such slim pickings. I would always joke that there were eight gay guys at Williams, but truly, I one time counted and there were under 30 … so I was shocked — I'm still shocked that I'm a part of that statistic."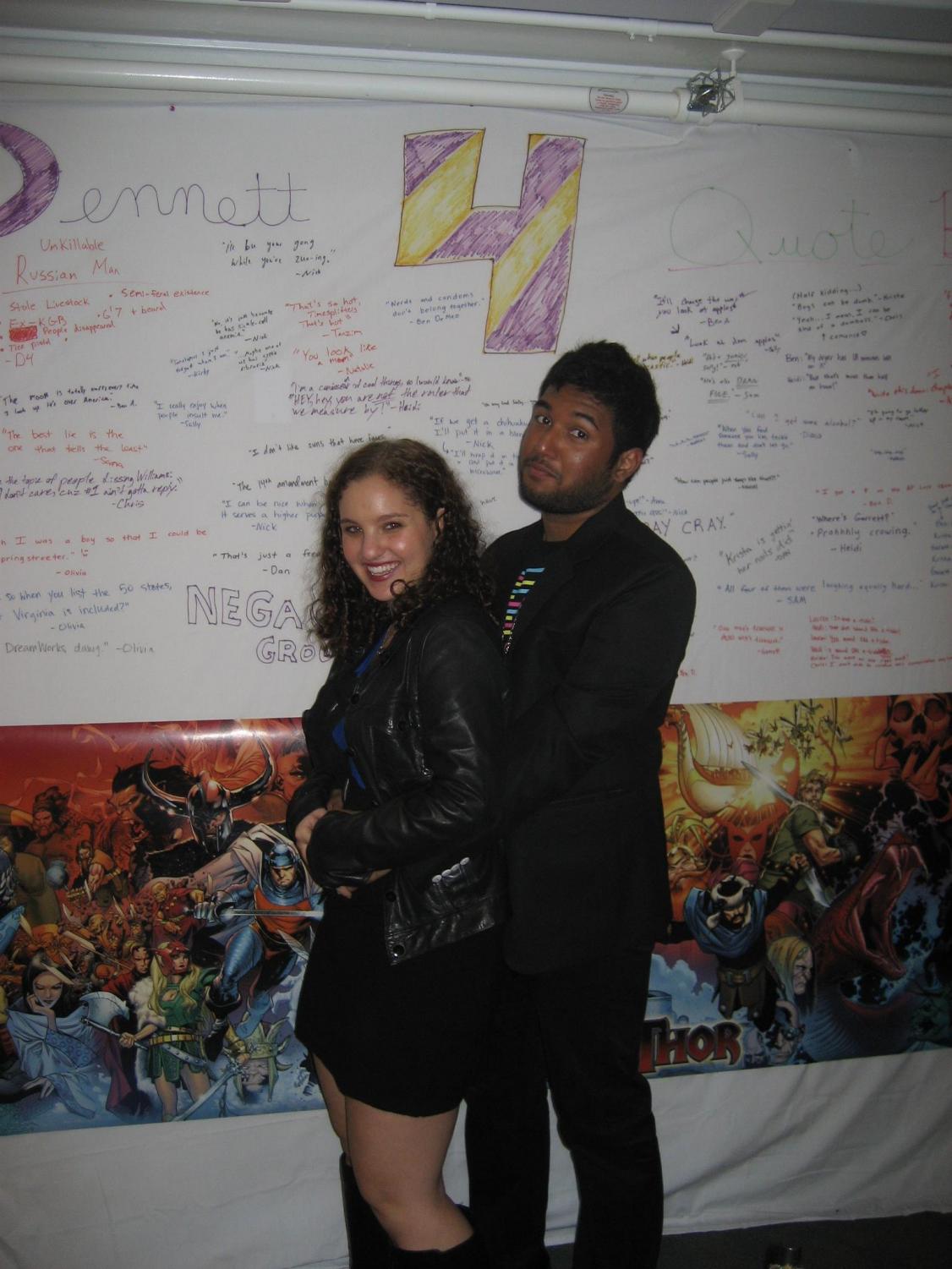 Lauren Bender '15 and Tanzim Milkey '15
"I feel incredibly grateful to the Williams housing department right now," Lauren Bender said in her vows for her wedding in the summer of 2019. She and her husband-to-be were placed in the same entry and WOOLF group in their first year and spent the first couple weeks flirting their way through hikes and entry snacks. 
Nothing happened until the first First Fridays — a College program cancelled after 2015 that hosted a dance at Goodrich Hall on every first Friday of the month — when Milkey, jealous of the person Bender was dancing with, went up to her and asked, "Do you want to dance with me?"
And the rest was history.
Neither Bender nor Milkey had expected to meet the person they would end up marrying in college, much less do so within the first few weeks of being on campus. "I was so excited to meet a lot of different people and date a lot of different people," she said. "Like, you know, experiment, and that is just not how it went."
"Like, 200% the same," he laughed.
"We just got really lucky," she said. "We clicked so instantaneously and fell in love so quickly. That's not to say that everything has been easy ever since then, but we've been through a lot together."
"We also come from two very different backgrounds," he added. "There is no other place on Earth that we would have met outside of Williams because I grew up poor, and Lauren's family paid full tuition."
Culturally and ethnically, Bender and Milkey were very different as well. Milkey is Bangladeshi and Muslim, and Bender is Jewish. One of their most cherished memories is the first time their families and friends met.
"It was a blending of cultures, and the people that we love — a bunch of our friends got to meet each other for the first time," he reminisced. "And they all clicked, and it was just all so harmonious and lovely."
"Just the way that we were able to combine the cultures but still make it our own was really special," she said.