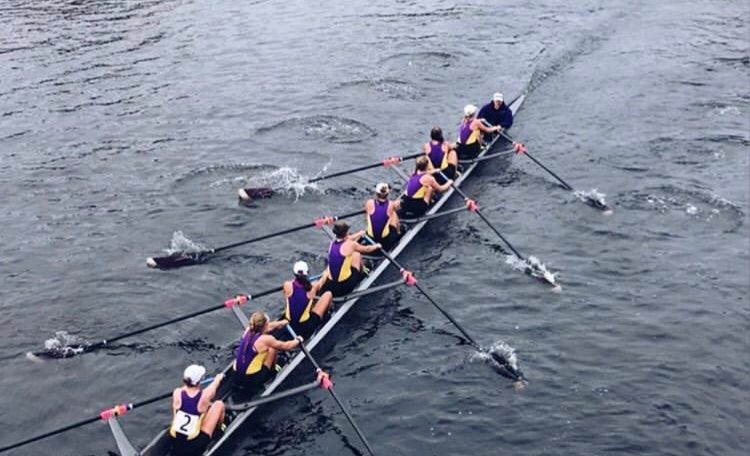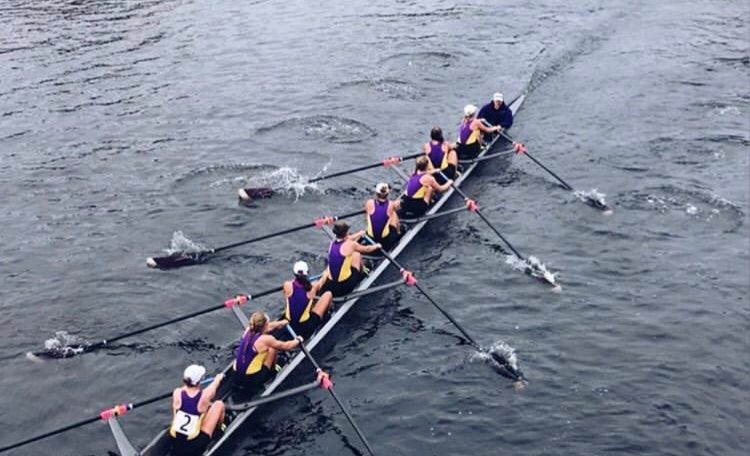 Women's crew's collegiate eight boat took 12th place in 17:25.3, requalifying the boat for next year. (Photo courtesy of Kurt Urdang.)
The Head of the Charles Regatta is known for its challenging course and frequency of crashes, which the women's crew team experienced in full last weekend. The team fielded three boats: a club four, a collegiate eight – which requalified in 12th place – and a collegiate four, which suffered a collision.
The club four kicked off the weekend, racing on Saturday against a mix of collegiate boats of all divisions and masters crews. The all-sophomore crew consisted of coxswain Rosie Sokoll '22 and rowers Emma Wuerth '22, Alameda Chapman '22, Lexi Cooper '22 and Olivia Straw '22. The boat, which got passed by Fairfield, came in 37th out of 55 with a time of 20:28.1, failing to finish in the top half and requalify the bid for next year.
"It wasn't our best race," Cooper said. "It was hard mentally and physically, and we didn't establish a consistent swing. But, the moments where we were together, the few strokes where I could feel the power of all three other girls, gave me hope for where we're going to get to this year. I think we're going through a lot of learning and growing pains right now, but each racing opportunity is helping us inch closer to where we want to be."
On Sunday, the collegiate eight began its race with bow number two, behind Bates and in front of WPI. Although the Ephs finished only 2.7 seconds after them at Head of the Snake on October 12, the Engineers quickly began closing the gap after the first bridge. With side-by-side contact leading up to the ninety-degree Weeks Bridge turn, the Ephs were forced to pause for a few seconds to yield to the Engineers to avoid an interference or collision.
"We faced challenges on the course today when alongside a boat before Weeks Bridge," four-seat Anna Bruce '21 said. "But the difficult steering, unpredictable aspects and hordes of spectators make the Charles exciting every year. The competition was tough today, but we had fun, learned valuable lessons and are very excited to race again next weekend at the Head of the Fish."
The women, who needed to finish in the top 14 to qualify, secured 12th with a time of 17:25.3. The lineup consisted of Rebecca Tauber '21, Grace Goodall '22, Ella Napack '23, Madison LaCasse '22, co-captain Stephanie Brown '20, Bruce, Katrina Wheelan '21, co-captain Samantha Lazar '21 and Fiona Yonkman '20.
The collegiate four, coxed by Georgia Ganser '22 and rowed by Liz Ostermeyer '22, Erin Barry '23, Catherine Powell '22 and Betsy Button '21, ended the day with a dramatic finish. After passing Washington University in St. Louis right before Anderson Bridge, Washington failed to yield and collided with the women under the bridge. With Washington's bowball caught in Powell's rigger, the crews took approximately 45 seconds to untangle and begin rowing again.
"Georgia did a great job and stayed really calm, but it's a bit alarming to have a bow right next to your arm, especially if you're the two seat," Powell said afterwards. "It took some real control to regain focus after that, but by the last 1k we were all back onboard and managed to finish the piece out strong."
The four boat, which suffered a collision from behind under Anderson Bridge last year as well, came in 23rd out of 36 with a time of 19:52.2, failing to requalify the boat for next year.
Head of the Charles marked the second of three races in the team's short fall season. The women will conclude their season with the entire team racing at the Head of the Fish this Saturday.