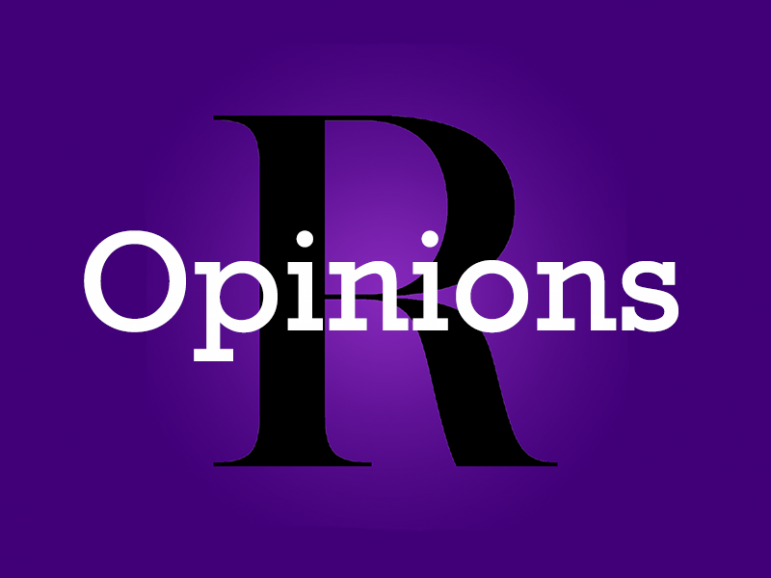 Sprung from cages out on highway nine, Bruce travels through the working class beach towns of the Jersey Shore hunting for the definition of the American ethos. His music – spanning five decades, twenty Grammys and Obama's Presidential Medal of Freedom – sings loudly of the middle class struggle, the workingman's stumble and the hopes and dreams of many Americans. Bruce inspired the youthful desire of the '70s to escape in "Born to Run," criticized government policy toward Vietnam in the '80s via "Born in the U.S.A." and uplifted our American morale after 9/11 with "The Rising." He is a reflection of values that we all share as Americans, regardless of background, and amplifies our collective hopes and dreams. When introducing Bruce at the Kennedy Center Honors, President Obama remarked, "I'm the President, but he's the Boss." To me, too, Bruce is "The Boss." The College, falling somewhere in-between Obama and myself, should honor him as such with an honorary degree — a recognition of his efforts to define an America that pains and comforts us all.
Bruce's roots stem from '60s Jersey, a place vastly different from what it is today. He remarked that before him, "Jersey was … one of the little -Stan things that nobody knows a fucking thing about." Many of his songs were inspired by his setting – a desolate environment with little hope for freedom or opportunity. Springsteen claims, "There was no Jersey almighty shit – I invented that." This sort of background inspired his earliest songs. In "Born To Run," Bruce sings tales of folks leaving their hometown, a "death trap," to escape to a better, often undefined place with the help of a "hemi-powered" ride. Springsteen was able to connect with the youth of the '60s and '70s, who often struggled to find themselves in the politically complicated and socially conservative middle-class America. Bruce remarked that his rock and roll revolution drew on "the kids want[ing] more. More life, more love … and more hope, and more truth, and more power, and more soul, and most of all, more rock and roll."
During the next decade, Bruce continued to refine and amplify the American ethos, often inspired by economic and traumatic hardship (usually followed by hope). In "Johnny 99," Bruce sings of a disgruntled worker laid-off the Mahwah Ford auto plant, who, in drunken spite, regretfully shoots a night clerk and is sentenced to 99 years. Bruce continues this dark, but wholly realistic narrative with "The River," where he speaks of a teenage boy who marries, becomes a father and receives a "union card and a wedding coat" for his 19th birthday. The character's hopes and dreams with Mary, his wife, are crushed as he takes a job with a local construction company that gets slammed by an economic downturn. Nevertheless, Springsteen taps into the hopefulness of the country. In the end, the character is comforted by Mary as they travel to the river of hope to carry on their joint lives.
More importantly, Springsteen also captures the aspiration for better outcomes. In "The Promised Land," Bruce uplifts some of the same characters who suffered in his other stories. He sings of a man who, after "working all day [and] driving all night," is ready to hustle and start something new to "blow away the dreams that tear [him] apart." Bruce then sings of the selfless American soldier in danger in "No Surrender," where he describes troops who want to "sleep beneath peaceful skies" with their lovers, but are fighting in Vietnam after making a "vow to defend" the U.S.A. In "Glory Days," the Boss sings about the good old times when he was young, the characters who populated that time, and remembering these days through their aged lens. Finally, through "The Land of Hope and Dreams" and "This Hard Land," Bruce characterizes the possibility of life and satisfaction from otherwise desolate environments, and the importance of the American ethos of perseverance through difficulty.
Some of his recent works, like "The Rising" (2002), "Wrecking Ball" (2012) and "Western Stars (2019)," remember and honor the heroes who populated the 9/11 recovery, paint a picture of those who suffered during the economic crisis of 2008 and amplify the stories of the unheard working class in the deserts of the West.
During the same 2009 Kennedy Center Honors, Obama, when speaking of Bruce, remarked, "From the life of our country, only a handful of people have tapped the full power of music to tell the real American story." His songs and stories of struggle, hope and perseverance are pillars that have supported the American ethos for hundreds of years. At the end of the day, we are all people, Americans, chasing our dreams, fighting for our hopes and ambitions and likely screwing up along the way. As Obama said, "There is a place for everyone in Bruce's America."
There should be a place for American heroes like Bruce on the train of the Williams legacy. Granting Bruce Springsteen an honorary degree would be one way of giving an American hero a spot in Williams' history, and would reaffirm the notion that the College values these American principles — that it values how we find and celebrate our identity through the power of Bruce's rock and roll.
David Shakirov '22 is from Fort Lee, N.J.